Bevel gears / bevel gear motors
In a bevel gear, the power is transmitted by bevel gears. For this reason you have a very good efficiency with a high gear ratio. The advantage of the high ratio arises from the fact that the efficiency is not independent of the ratio. In addition, the gears can be optimally used in difficult installation conditions, since the drive can be redirected. The gearbox can therefore be used individually, is adaptable and is considered to be cost-saving. Areas of application are e.g. rolling mills, presses and machine tools. An additional feature of these gearboxes are the input and output shafts which are at an angle to one another.

We can provide you with all standard gearbox sizes. Of course, an electric motor can be attached to all gearboxes. The power range of the motors is between 0.09 kW and a maximum of 30 kW. Torques from 4 to 700 Nm and a reduction of i= 1:1 to 1:10 are possible. We would be happy to build you a bevel geared motor according to your requirements in our in-house assembly. The gearboxes are available in sizes 2000 to 5000 in aluminium. Sizes 19 to 48, on the other hand, are made of gray cast iron and are therefore very robust. Corresponding output flanges are available for all gearboxes.
We also offer our bevel gears as helical bevel gears from HYDROMEC and with an attached electric motor as bevel gear motors.

Extensive technical details can be downloaded from our download area.
All sizes available
Motor power range from 0.09 to 30 kW can be added
Torque from 4 to 700 Nm
Reduction of i = 1:1 - 1:10
All sizes 2000 to 5000 in aluminium
From 19 to 48 in cast iron
bevel gear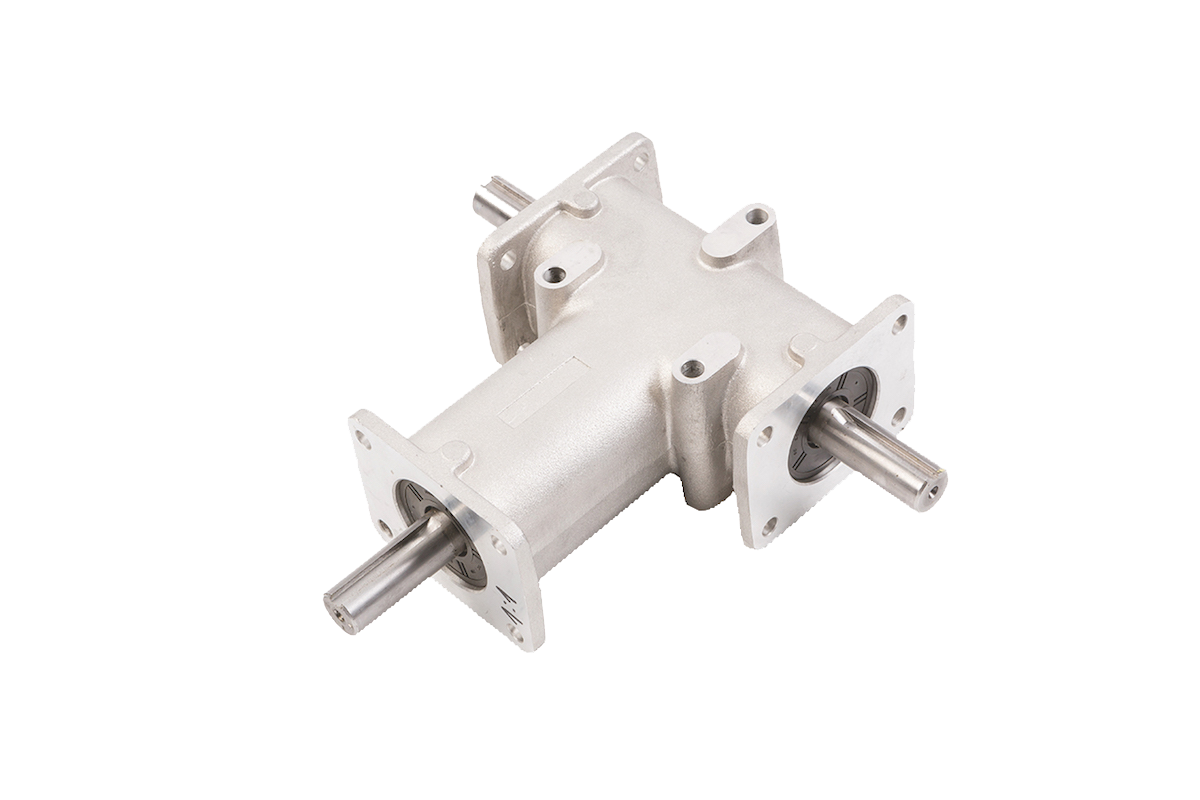 Bevel gears are suitable for use in almost all applications in drive technology. They are regarded as high-precision torque converters that make it possible to speed up and slow down. A special feature of this gearbox is the 90° angled crossing of the axes inside the gearbox. The powerful and robust drives are ideally suited for applications with high requirements. The attachment of an electric motor, as a bevel gear motor, is possible with these gearboxes with a motor power range of 0.09 to 30 kW.
In addition to their high performance and precision, bevel gears, often also called transmission gears, are designed to be very machine-friendly. This compactness and the insensitivity to shocks make them true high-performance gears. In addition, the gears run very quietly and are very robust. Due to their nature, they are considered to be almost maintenance-free. The areas of application for bevel gears and bevel geared motors are diverse. They are used, for example, in automation, in packaging machines and in all plant and mechanical engineering. The gearboxes are available in both aluminum and cast iron.
Planetary gears / planetary gear motors
The compact planetary gears represent a special form of spur gears. The special feature of these rotating, small gearboxes or geared motors is the space-saving design. At the same time, the gears offer a high reduction ratio and evenly distributed power transmission. The compact gearboxes are manufactured by the Italian manufacturer Bernio. Bernio stands for many years of experience in the manufacture of these gearboxes and for high quality standards. These special drives are used, among other things, in small conveyor belts, in cleaning systems and in drive cases with high power density.

We would also be happy to offer you the right motor for your drive. Our gearboxes are available both with a built-on three-phase motor and as a DC planetary gearbox with a built-on DC motor. Three-phase motors with a power range between 0.09 kW and 570 kW as well as DC motors with a motor power range between 0.05 kW and 1.10 kW can be attached. On request, we can also supply you with larger planetary geared motors. Talk to us about your individual wishes. Here you will find an overview of our electric motors.

Low-backlash planetary gears
In addition, we also offer low-backlash planetary gears in our product portfolio. These gears are used in drive technology, especially for positioning tasks in food and packaging machines, in woodworking machines, in printing and paper machine technology as well as in textile machines and machine tools. Due to the many different areas of application, low-backlash planetary gears have to meet a wide range of requirements.

The main feature of the low-backlash planetary gears is the rotationally symmetrical, compact design. This enables the space-saving internal structure of the planetary stages. The lateral forces arising at the toothing are absorbed in the smallest of spaces, symmetrically integrated in the housing. The result is a high torque/volume or torque/weight ratio, as well as high torsional rigidity and low torsional backlash.
Ideal for servo applications, with the highest performance in terms of dynamics, precision, robustness, durability and service life.

With us you get low-backlash planetary gears from stock or with short delivery times. We would be happy to offer you a suitable motor for your gearbox. Together we will find the right solution for your application.

Extensive, technical details of the gearboxes can be downloaded from our download area.
Technical specifications
low backlash
planetary gear
Torque: from 0.2 Nm to 450 Nm
Reduction of i: 3 to 1,296
Angular play: 4′, 6′, 8′
Technical data planetary gear (with three-phase motor)
Motor power range from 0.09 to 570 kW can be added
Reduction of i: 3 to 343
game > 4
Technical data planetary gear (with DC motor)
Motor power range from 0.05 to 1.10 kW can be added
Torque from 0.2 to 400 Nm possible
Reduction from i: 4 to 1,296 possible
Planetary gear motor with three-phase motor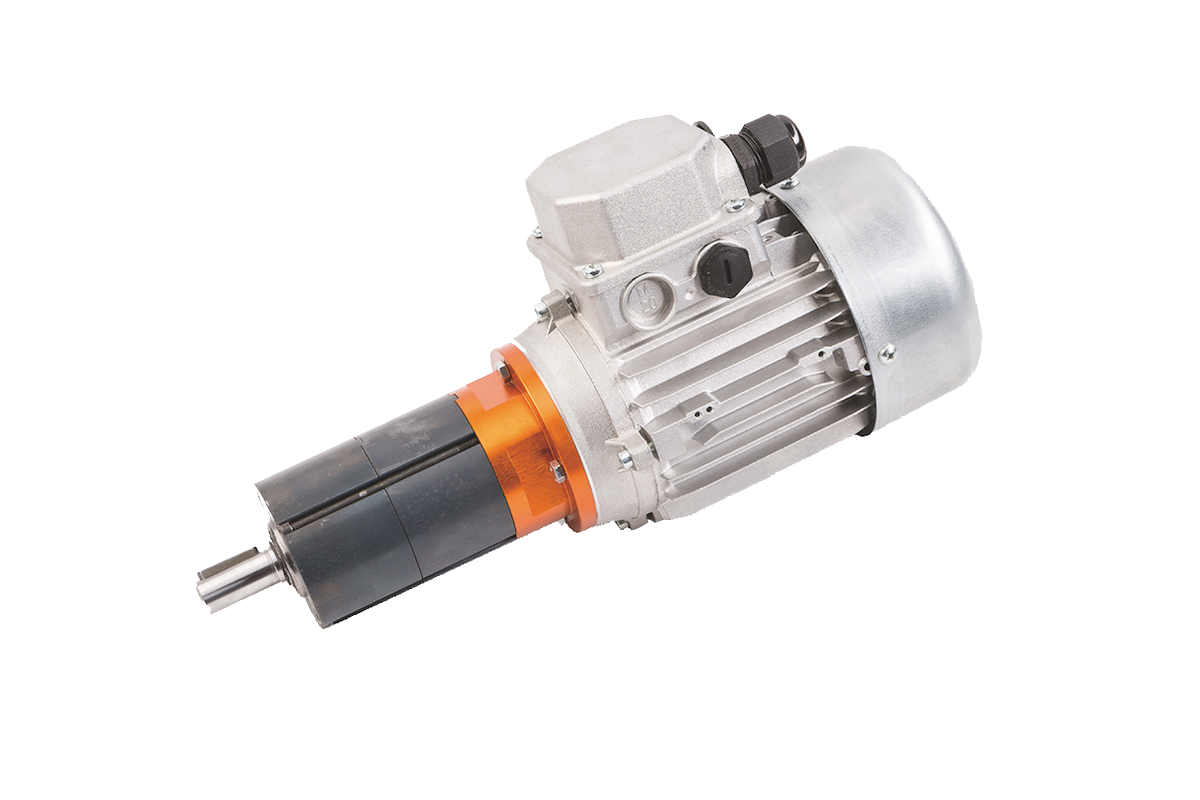 DC planetary gear motor
Planetary gears are compact gears that are ideal for use in applications with high requirements. The gearboxes are very compact and achieve high torques despite their small size. They are characterized by their good efficiency. Especially in combination with a motor, as a DC planetary geared motor or with a three-phase motor as a planetary geared motor, they form a very efficient drive element. Just as the planets revolve around the sun in astronomy, the planet gears in these gears revolve around the so-called central sun gear. This wheel is driven by an attached motor and transmits its energy to the surrounding planet wheels.
The gearboxes are characterized not only by their high efficiency and their compact design. They are also very sturdy compared to their size. In addition, they have a high impact resilience and are quiet in operation. In addition to its concentric shaft output, the low gear backlash is also worth mentioning. They are also considered to be almost maintenance-free.