Frequency converter motor MFR
Connection 1x230V or 3x400V
Power 0.37 to 2.20kW

With a frequency converter built on a three-phase motor, a so-called frequency converter motor, of the MFR 600, MFR 1500 and MFR 3000 series, the speeds of these motors are continuously controlled in the frequency range between 0 - 150Hz (up to 600Hz as high-frequency version).

Our MFR frequency converter motors are designed in such a way that they are mounted directly on the electric motor to be controlled instead of the terminal box. Degrees of protection up to IP68 are possible with the motor converters if the appropriate seals are used. Mounting on the electric motor is particularly beneficial because the electrical connections to the motor are inside the closed metal housing. Radio interference suppression is therefore made significantly easier. In addition, since there is no motor cable, the electrical installation is much easier. Because there are no cable capacitances, both the power loss of the converter and the voltage stress on the motor are lower.

Frequency converter motors work with a clock frequency of approx. 10 kHz (can be switched to 16 kHz). This ensures excellent running smoothness and jerk-free operation, even at low speeds.

The devices are available for 2-quadrant and 4-quadrant operation. (Driving in both directions of rotation). Braking is possible up to the power that corresponds to the power loss of the electric motor. In braking mode, the motor is operated with overvoltage.
In 'normal operation' the frequency range extends up to 150 Hz
In 'pump operation' the maximum frequency is limited to 55 Hz and the ramp is set to a fixed 5 sec
In 'high frequency mode' the maximum frequency can be set up to 600 Hz
The 'long ramp' operating mode switches the setting range for the ramp time from 0.2 -15 seconds to 4-300 seconds (related to a frequency jump of 150 or 600 Hz)
In the 'motor potentiometer' operating mode, the motor speed is set with 2 keys

Extensive technical details can be downloaded from our download area.
Motor power range 1 x 230 V - 0.25 - 1.50 kW
Voltage 3 x 400 V - 1.50 - 2.20 kW
Protection class up to IP65
Protection class up to IP65
Right-0-Left switch
Easy handling
Excellent for simple applications
Inexpensive alternative
Frequency converter motor MFR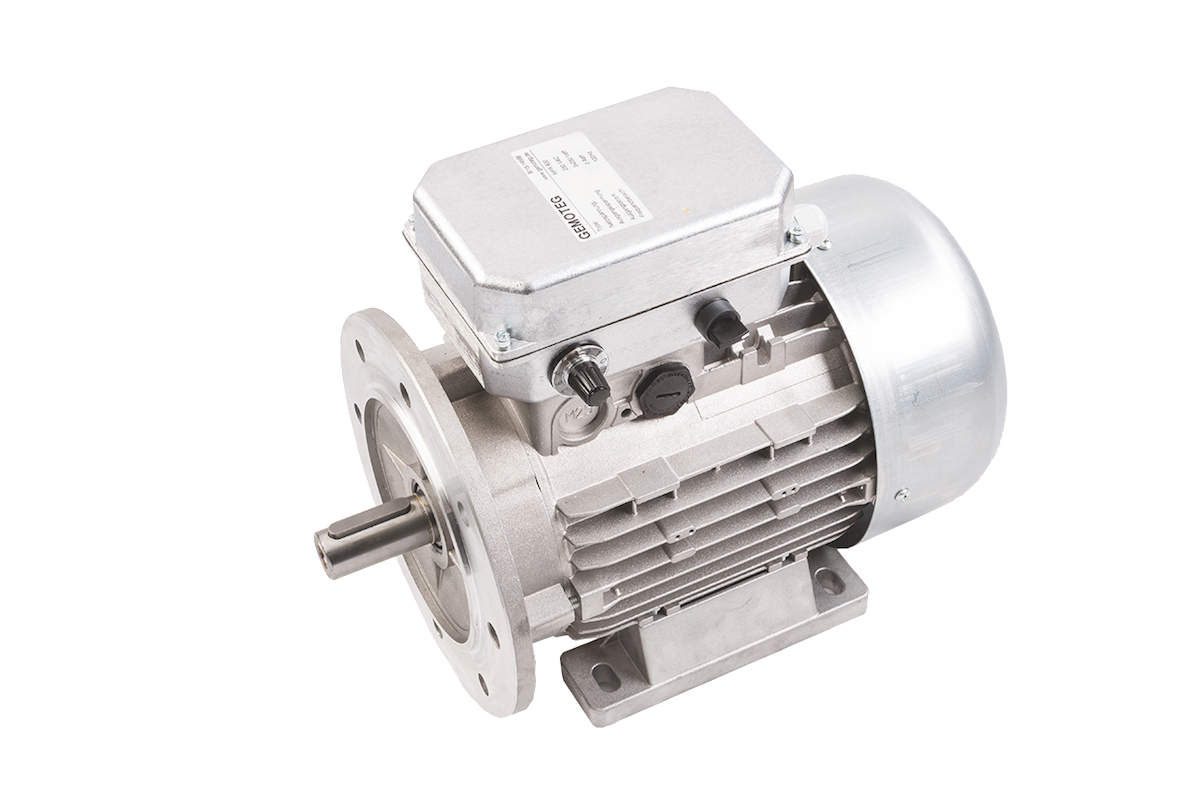 These drive controllers were designed for use in simple applications. They are compact and robust and also suitable for use by non-professionals.
Our frequency converter motor MFR is particularly characterized by its very easy handling. It only has a right-0-left switch and is therefore very easy to use, even for laypeople. It fulfills its purpose of electronic control without unnecessary accessories. This frequency converter motor is therefore ideally suited for use in simple applications. In addition, it is a cost-effective alternative to more complex frequency converters. The MFR motor converter is mounted directly on the motor. This electronic control can thus be attached to the motor in a space-saving and compact manner.
The use of a technically more complex motor converter is suitable for more complicated applications. Our Kostal motor converters are drive controllers that are particularly suitable for applications with high requirements. We would be happy to help you find the right drive controller for your application.