+49 (0) 7471 93 01 030
+49 (0) 7471 93 01 059
Walkenmühleweg 49, 72379 Hechingen
Gearboxes / Geared motors
.01

HYDROMEC Gearboxes

Below we offer you catalogs and brochures of our HYDROMEC gearboxes for download. Accordingly, you will find all current catalogs for the following products: HYDROMEC wormgearbox round (B / S) and rectangular (Q), HYDROMEC helicalgearbox, HYDROMEC helical bevel gearbox and the complete catalog with an overview of all available productsc. In addition, you will find the latest catalog of our stainless steel gearboxes, stainless steel motors and the new aluminum worm gearboxes (VFZ series). With us you receive a variety of the listed gearbox versions ex stock and individually adapted to your needs. Furthermore, we also gladly offer you a suitable electric motor, frequency converter or suitable controller for your gearbox. Thanks to our long-term partnership with the company HYDROMEC, we can also adapt all available transmissions directly to your individual needs. If you need more information or are unsure which gearbox meets your specific needs, please do not hesitate to contact us. We're here to help!
Catalogs:

Helical gearbox

Shaft mounted gearbox
.02

Gemodrive ®

Below you will find drawings as well as a complete catalog of our own worm gearboxes – the GEMODRIVE brand. We offer our worm gears from stock in different variants. Our own gearboxes can also be individually tailored to your requirements and manufactured accordingly. We are also happy to offer you the right electric motor for these gearboxes. If you need more information about our worm gear or a worm gear motor that suits your requirements you can contact us. We're here to help.
Catalogs:
Gemodrive K-wormgearboxes and variators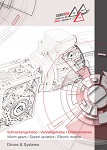 Catalog Gemogear- K-Wormgearboxes 2018.pdf

(7,0 MiB)